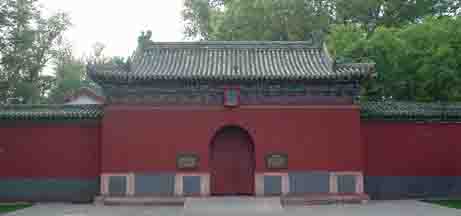 Beijing Imperial Temple of Silk
My name is Paul Marcus, I began studying and collecting Chinese art in 1978. Over time, the collection has focused on Chinese dragon robes, both longpao (semi-formal (auspicious) robes) and chaopao (formal (court) robes), of the Wanli through the Jiaqing periods.
I already have and continue to collect "best of class" examples from all levels of the Chinese court system, from civil and military ranks to the robes of the imperial family. My collection currently has over 200 works with selected objects having been exhibited in Europe, Asia, and North America.
I have owned and managed a Boston-based institutional investment management firm since 1986. Over the past twenty years, I have managed the investments of some of the largest pension funds and foundations in the world. To serve the clients of the investment management firm, I split my time between China and the United States, working in China since 1990. I began working in China as a result of a corporate partnership with a Hong Kong-based multi-national conglomerate.
In addition to collecting, I am involved in a number of dragon robe related organizations including, but not limited to:
Serving as a Fellow of the Royal Asiatic Society of Great Britain (London, England)
Serving as a Member of the Textile Society of America, and serving on its Finance Committee
Serving as a Voting Member of the International Council of Museums, and serving on its Costume and Conservation Committees (Paris, France)
Serving as a Member of the Centre International d'Etude des Textiles Anciens (C.I.E.T.A) (Lyon, France)
Serving on the Visiting Committee(s) of the Asian Art Department, as well as the Textile and Costume Department of the Museum of Fine Arts (Boston, Massachusetts USA)
Serving as a Member of the Textile Society of Hong Kong (Hong Kong, SAR)
Serving as Chairman, The Dragon Robe Society of China (Beijing, China)
My recent dragon robe related activities include, but are not limited to:
Co-sponsoring and exhibiting for the Museum of Fine Arts, Boston exhibition, "Draped in Dragons", including from my collection; a dragon robe of the Kangxi Emperor, a dragon robe of the Yongzheng Emperor, and a dragon robe of the Qianlong Emperor.
Featured Lecturer at the Museum of Fine Arts, Boston for a presentation titled: "Dragon Robes: Unraveling Mythology," which addressed dating and authentication issues and errors, based on my original research from primary source material gathered around the world, as well as my own collection, April 3, 2004.
Profiled in October 16, 2004 article, "Chinese Robes" in "The Financial Times."
Faculty, Lecturer for YPO President's University at Beijing University for lecture titled: "Draped in Dragon's: Chinese Court Costume," which detailed my research into the Imperial dragon robe ordering process, Imperial records involving dragon robe's, and exploring a variety of inaccuracies perpetuated by deficient scholarship, utilizing my original research from primary source material. Delivered May 17, 2005 in Beijing, China.
Lecturer, for The Beijing International Society at the Residence of United States Ambassador to China and Mrs. Randt, titled: "Dragon Robes: What we think we know". The lecture examined my research into a variety of Imperial accounting records, Chinese customs records, and Imperial household records demonstrating, along with a variety of other primary source material, substantial inconsistancies in commonly held beliefs regarding dragon robes. Delivered October 18, 2007 in Beijing, China.
Yongzheng Emperor Robe (1723-1735)
(c) The Marcus Collection, 2004, All Rights Reserved.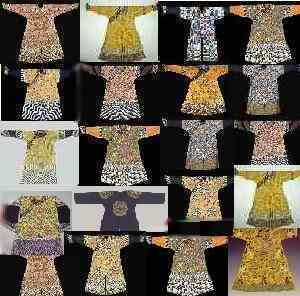 I co-sponsored and exhibited in the Museum of Fine Arts, Boston exhibition, "Draped in Dragons". Please "click" the MFA link to view.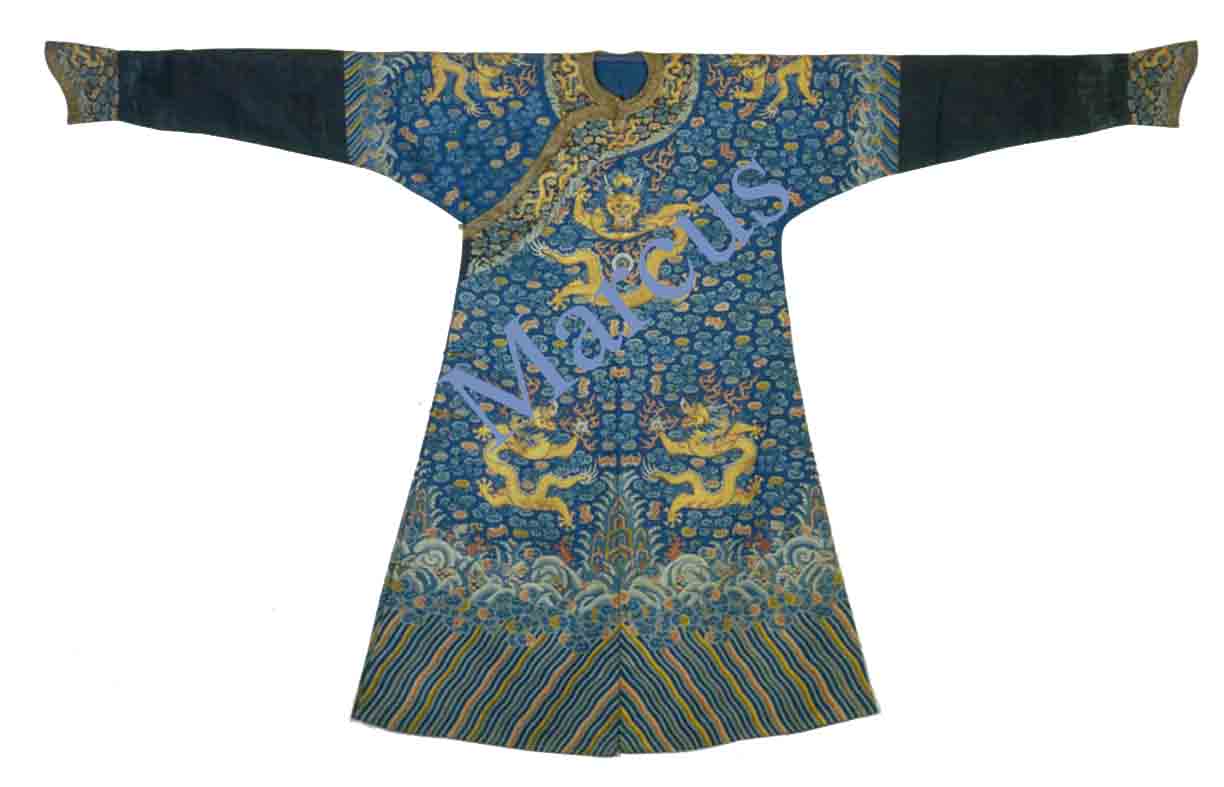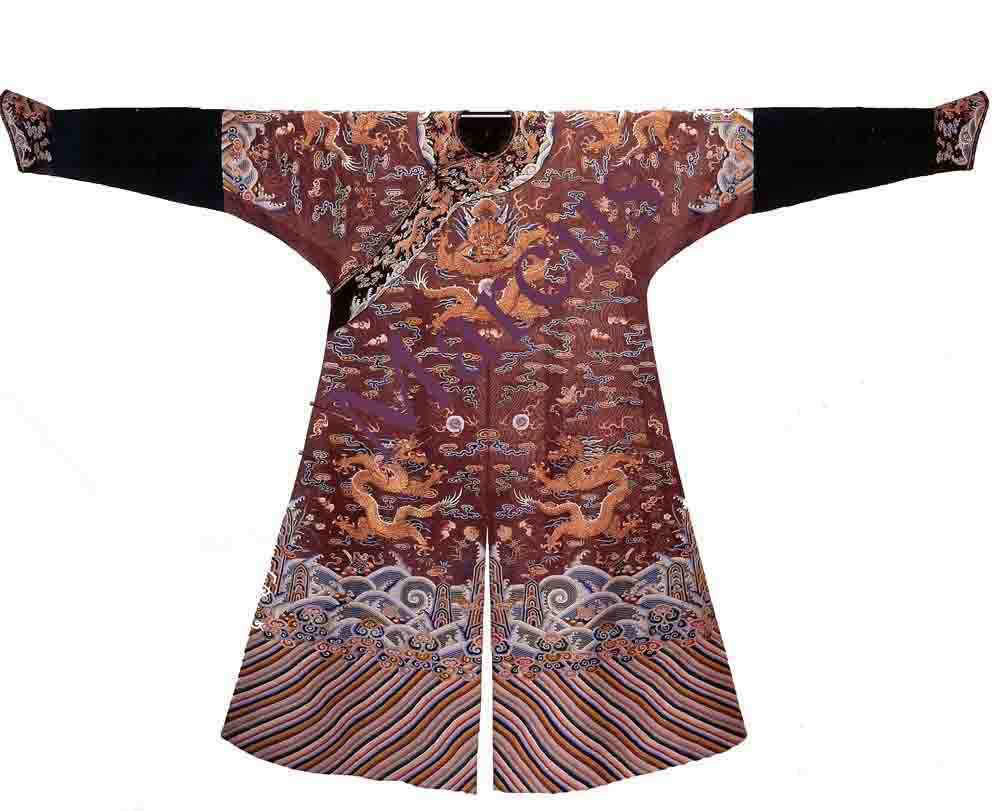 The Marcus Collection
I am an active and continuous buyer of Chinese dragon robes on a global basis, acquiring fine works throughout Europe, Asia, and North America. I maintain "museum quality," climate-controlled, state-of-the-art, storage vault(s) and conservation facilities, both in the United States and internationally. These facilities include, but are not limited to:
custom designed and configured, stereo-zoom trinocular Leica and Nikon microscopy, Nikon photography, micrography and micro-videography,
custom-made, 6-foot extendable, microscope tracking arm(s) to document entire textiles,
custom-made to specification, Delta Designs museum textile cabinetry,
Nilfisk museum, variable control, HEPA vacuum equipment,
"conservation-grade," ultrasonic, cool humidification, preservation pencil(s) for relaxing difficult creases resulting from long-term storage,
custom-made examination and work surfaces by Pheonix Benchline,
optimal environmental controls at a constant 70 degrees fahrenheit with 50% relative humidity.
In addition, I maintain an advisory board of the world's leading scholars and conservators to assist me in researching and caring for these delicate objects. As a collector and researcher, I feel it is my responsibility to protect and conserve the works in my custody, provide historical context and authentication, and selectively exhibit and publish these works.
Marcus U.S. Storage and Conservation Laboratory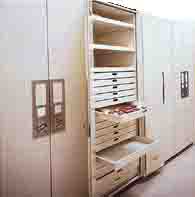 If you have a dragon robe you would be willing to sell, please email me. I have the capacity to purchase immediately at all price points.
I do not sell dragon robes, nor do I offer any services. This site is solely for parties interesting in selling to me.
DRAGON ROBE DRAGON ROBE DRAGON ROBE DRAGON ROBE DRAGON ROBE DRAGON ROBE DRAGON ROBE DRAGON ROBE DRAGON ROBE